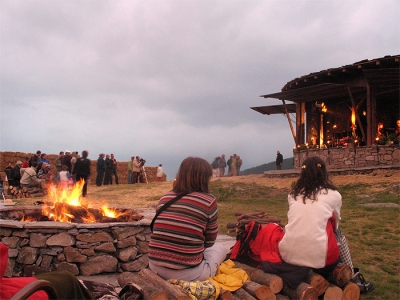 Golyam Perelik (2191 m) is the highest peak in the Rhodope Mountains. The array is covered with juniper bushes and low spruces. The foot of the peak can be reached from the chalet Perelik for about 1 hour. There is a chapel "St. Kirik and Julita" built by the military at "Churika" meadow close to the peak.
This area is a real treasure and the tourists' favorite place. On your way up you can pick aromatic herbs. Golyam Perelik is easily accessible, but currently it cannot be climbed because there is a unit of the Bulgarian Army, stationed in the surrounding of the peak. That is why the walk ends to the "The house of bears".
If you would like to surprise someone or experience unforgettable moments, you ought to visit the best Ecolodge in Bulgaria - "The house of the bears". An amazing experience at 2100 meters above sea level close to the top Perelik. Do not be surprised that there is no electricity, heating and central water supply. You won't miss that because everything in the lodge is designed with a single purpose - to be environmentally friendly and at the same time you go back in time, where time has stopped. There are 200 candles, five fireplaces, a local system of water collection and treatment of waste tens artefacts, modern furniture and comfort of natural materials such as stone, straw and wood make a unique atmosphere. Bears' House is an annual host of the jazz festival in late July.
Home
/
Pamporovo
/
Landmarks
/ Mount Perelik and "The house of bears"