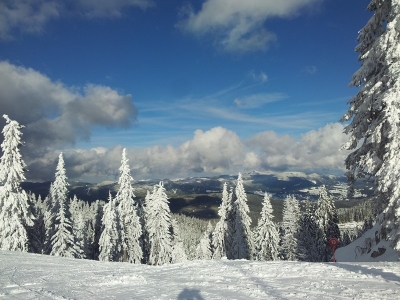 Pamporovo- a riot colours in summer and crisp white in winter
Pamporovo, the diamond in the crown, one of Bulgaria's premier ski destinations, cannot be rivalled since it's the sunniest mountainous resorts in Bulgaria. It is huddled in the hospitable Rhodopi Mountain, embraced by greenery in summer and covered with fluffy snow in winter. Pamporovo is a wonderful ski resort and this is why it's one of the prime European ski destinations. The unique location of Pamporovo, which is like a sparkling diamond in the Pirin Mountain, as well as the beneficial mountain climate are preconditions for Pamporovo being 'the sunniest mountain resort'in Bulgaria. If you have ever visited Pamporovo, then you should know that this peculiar charm of Pamporovo, covered with a snow blanket in winter and surrounded by green environment in summer, cannot be easily described with words as the curious traveller always wants to explore more and more. Welcome to Pamporovo in every season, exhilarating mountainous vacation and unsurpassable beauty!
Pamporovo is easily recognized with the sunny skies, lush meadows, covered with wild flowers and herbs, warm hospitality, crystal clear mountainous air which absorbed the sweet fragrance of the pine forests.
Pamporovo is European southernmost ski resort, an ideal destination for ski and snowboard adventures, a meeting point of the cold north winds and the warm influence of the Aegean climate. If you are a skier or a fan of winter sports, then the sunny Pamporovo will provide you with unforgettable moments and excellent snow pistes of various level of difficulty. Provided that you are a beginner skier who craves for mastering the ski techniques, don't get panicked, because the sun-touched Pamporovo ensures memorable moments for all types of skiers. Also, the ski school in Pamporovo has received International recognition, because qualified ski teachers always take care of the proper tuition in accordance with everybody's own pace.
Pamporovo has an excellent hotel base and this is the reason every holidaymaker can hardly a hotel since the first class facilities, flawless services, comfort and great entertainment options can be found almost in every accommodation.
The sunniest ski resort in Bulgaria has a surprise for you- just visit the Panorama bar at Snezhanka Tower /2030m altitude/ and the incredible landscape will leave you speechless. Don't miss to indulge in the magic, called Smolyan Lakes which are better known as the emerald eyes of Rhodope Mountain. Next, let's visit the National Astronomy Observatory Rozhen, the mystical village Gela and explore the area which will let you touch and become a part of the fairytale, called Rhodopi Mountain.