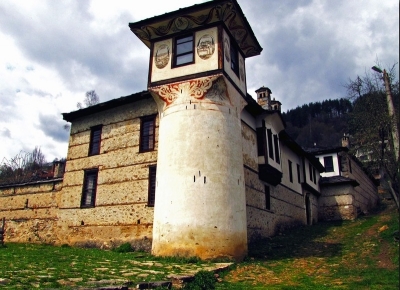 Architectural complex "Agushevi konatsi" is the largest late medieval feudal castle on the Balkan Peninsula. It is located in Mogilitsa village in the Rhodope Mountain and it's 25 km away from Smolyan. The architectual ensemble is one of the few preserved buildings from the Ottoman times that has status of an architectural and artistic monument of national importance.
The building complex was built over 20 years (1820 to 1840) by three Bulgarian builders for the rich Turkish feudal Salih Aga and his three sons. The "Agushevi konatsi" ensemble consists of twoo buildings - Great Konak and Small Konak, and a building for the women. Each building has its own yard with a well and is isolated from the others by internal walls. "Konak" translated from Turkish means "palace".
Agushevi konatsi has 221 windows, 86 doors and 24 chimneys.
Visiting hours of "Agushevi konatsi":

Today the building is privately owned and can be viewed only from the outside or in the summer with the permission of the owners with a call at City Hall.
Home
/
Pamporovo
/
Landmarks
/ Architectural complex "Agushevi konatsi"