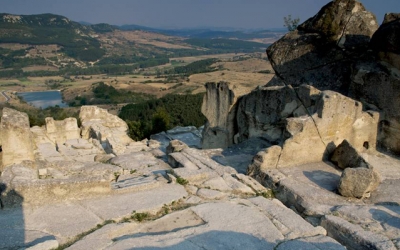 Perperikon (or Hyperperakion or Perperakion) is located in the Eastern Rhodope mountains in Bulgaria, only 10 miles from the town of Kardzhali. Perperikon is perched on a rocky peak at 1,400 ft above sea level guarded at its foot by the village of Gorna Krepost.
The gold-bearing river Perpereshka flows nearby forming a valley for 7 miles long and 2.5 miles wide. This fertile sheltered place had attracted settlers in very ancient times, and today, dozens of sites clustered around the natural hub of Perperikon reveal layer upon layer of archaeological remains. Just a little further down the stream, the Perpereshka river flows in to the artificial lake of Stouden Kladenets on the river Arda.
Archaelogical complex Perperikon is one of the most visited tourist sites in Bulgaria.
Visiting hours of Perperikon:
May - October: 07:30 - 20:00 h.
Home
/
Pamporovo
/
Landmarks
/ Perperikon