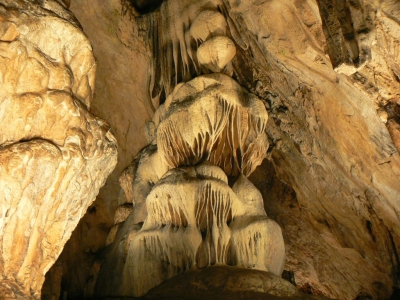 "Uhlovitsa" cave is one of the most beautiful caves in Bulgaria. It is situated at a distance of 3 km north-east from the village of Mogilitsa, at about 30 km southwest from Smolyan and about 37 km from the resort Pamporovo. The cave is situated in the locality of Sinite Virove in the Rhodope mountain, near the border with Greece.
The road to the cave "Uhlovitsa" passes through some of the loveliest places in Bulgaria with the ever-changing panorama of gorges, forests and meadows, scattered across numerous mountain villages. Uhlovitsa is one of the oldest caves in the region, with many beautiful formations resembling sea coral. Its name comes from the word owl - nocturnal bird of prey species.

Uhlovitsa is located at 1040 meters above sea level and the temperature inside it is 10 degrees C all year. The length of the cave is 460 meters. There are seven beautiful lakes in the cave which fill with water during the early spring.
Visiting hours of Uhlovitsa cave:

Wednesday to Sunday : 10:00 - 16:00 h
Home
/
Pamporovo
/
Landmarks
/ Uhlovitsa cave