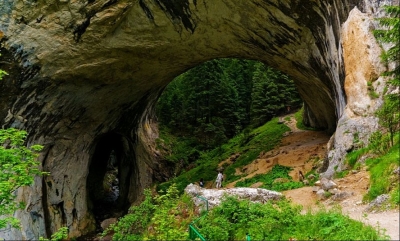 The unique natural landmark "Wonder Bridges" (Chudnite mostove) is situated in the central part of the Rhodope mountains in Bulgaria, at 1450 meter altitude above sea level. The Wonderful Bridges are two natural rock bridges located in a pine forest over the Aidarsko Dere River.
The Great bridge (Golyam most) is 12-15 meter-wide and 96-meter long. It rises over an abyss which is 43 m deep and 45 m wide. It is assumed that the bridges were formed as a result of a post-earthquake collapse of a deep karst cave hollowed out by the previously high-water river.

This area of the Rhodope mountains in Bulgaria is abound with herbs, mushrooms and wild fruit. Numerous rare and endemic species are in the Red Book of the Protected Plants: Viola rhodopaea, Rhodopi avens, Morina persica, Veronica rhodopaea, Lathraea and Haberlea rhodopensis, known also as the Flower of Orpheus.
Great opulence of animal species inhabits the neighboring forests. Approximately 270 bird species, as well as bears, wolfs, hares, foxes, wild goats, roes and deers. Triturus alpestris (salamander) and some bat species are also in the Red Book of animal species.
Visiting hours of the Wonder Bridges: free access
Home
/
Pamporovo
/
Landmarks
/ The Wonderful Bridges